Local Development Plan Update February 2020
UPDATE September 2022
See also Reporters conclusions regarding Kemnay at AC Special meeting below, Kemnay page 226
The Reporter Concluded that unallocated Site bid site GR134 (Land at Kirkstyle Farm – North, that housing within this site could be accommodated and contribute towards the local housing needs. The BUS2 (safeguarded for business uses) use should be removed from the plan and that GR134 (Land at Kirkstyle Farm – North) should become site OP3: Land to the east of Stuart Cresent. A new site statement is provided. For bid site GR135 (Land at Kirkstyle Farm – South) the Reporter decided that there is no justification for further housing allocation in Kenmay at this time as alternative sites have already been identified to meet the Strategic Development Plan allowances.
The Modified Proposed Local Development Plan 2020 reflects the modifications recommended in the Examination Report, and any other required changes. These include consequential modifications resulting from the Reporter's recommendations and any non-notifiable modifications made by the planning authority.
OP3: Land east of Stuart Crescent Allocation: 65 homes
This is a new housing allocation on land that was previously identified for business development in the 2017 local development plan. The site is located on the eastern edge of the settlement and slopes gently upwards in a northerly direction from the B993 road. A Masterplan is required for this site. Early discussions should take place with the Council to identify the assessments required to inform and support development proposals. These are expected to include matters such as transport, drainage and flood risk. It is anticipated that the site would be accessed from the B993 road, with provision made for a continuation of the pedestrian footpath on the north side of the B993, as far as the new road junction. Provision for active travel is required. Strategic landscaping is likely to be required to soften the settlement edge and reduce the prominence of the development, particularly when approaching from the east. The site lies within the Bennachie Special Landscape Area. Development should not adversely affect the special qualities for which this area is identified. A Landscape and Visual Impact Assessment may be required. It is expected that the site will contribute towards affordable housing in line with Policy H2 Affordable Housing. This should be delivered as part of the early phases of development and integrated into the design of the development to provide a mix of houses house types and sizes to meet local needs.
OP2: Birley Bush Depot Allocation: 1ha employment land
This is a newly allocated site. Opportunity for remediation of a brownfield site will exist once the Depot has been vacated and the existing uses cease. Small-scale and start-up employment uses are promoted on the site. Capacity may be limited depending on use, early engagement with Scottish Water is recommended. Upgrade to the junction on the B993 will be required and existing access road to adoptable standard with footway connection to the existing network. The site is situated adjacent to the drive towards the Category B Listed Kemnay House. Development should be designed in such a way that takes cognisance of and is sympathetic to this feature.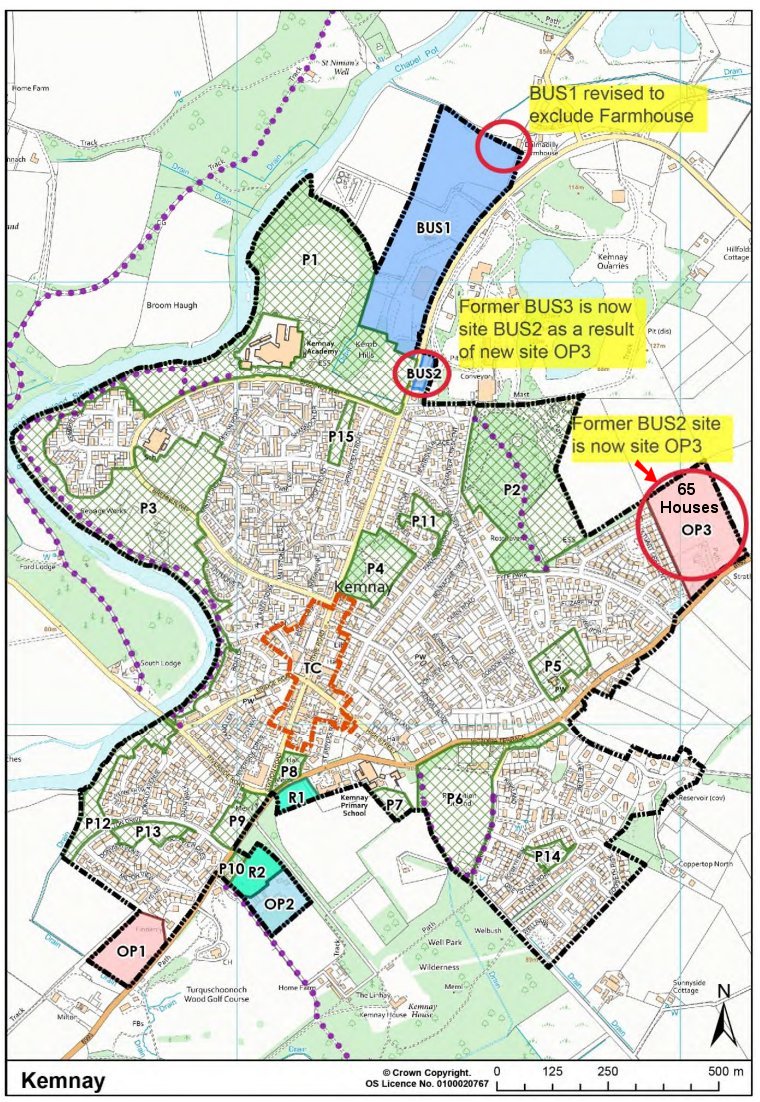 Site BUS1 is adjacent to the River Don and any redevelopment would require a detailed Flood Risk Assessment. Due to the presence of a small watercourse on its northern boundary a Flood Risk Assessment will be required for site BUS1. A buffer strip will be required along the watercourse. Re-naturalisation of the watercourse and removal of any redundant features should be investigated.
Flooding records show that a significant portion of the site OP1 to be at fluvial flood risk from the River Don and a small watercourse on its southern boundary. A Flood Risk Assessment will be required
---
Past Local Development Plan Newsletters
---
25 May 2020
Aberdeenshire Local Development Plan 2021 Publication of the Proposed Local Development Plan 2020
In 2019 you made representation(s) to us in response to the Main Issues Report, a document that discussed the issues to be addressed in the Aberdeenshire Local Development Plan 2021. A summary of your representation(s) and Aberdeenshire Council's response to comments received is provided within the Issues and Actions papers available at: https://www.aberdeenshire.gov.uk/planning/plans-and-policies/archive-information/#2019.
Aberdeenshire Council has reached a key milestone in the preparation of a new Local Development Plan for the area. The Proposed Aberdeenshire Local Development Plan 2020 will be formally published on the internet on 25 May 2020 for a consultation period of 8 weeks, ending on 17 July 2020. During this period written representations on the Proposed Local Development Plan can be accepted. The Proposed Local Development Plan can be viewed at: https://www.aberdeenshire.gov.uk/planning/plans-and-policies/pldp-2020/.
The Proposed Local Development Plan is Aberdeenshire Council's settled view of what land should be brought forward for development during the period to 2031. It also contains policies against which planning applications will be assessed. The Proposed Local Development Plan has been produced in response to comments received at the main issues stage.
We are now inviting views on the content of the Proposed Local Development Plan. A response form has been prepared, which can be downloaded from the Council's website or by requesting a copy from the Policy Team. This form should be used to make your representation to the Proposed Local Development Plan. It is important that you clearly identify the issue that your comment concerns and for you to explicitly state the modification(s) that you would wish to see to the Plan. If you wish to raise a number of issues, it is helpful if each issue/comment is provided on a separate form. Additional forms can be obtained via the Council's website or by contacting us directly. Completed responses can be emailed to:- ldp@aberdeenshire.gov.uk or posted to:- Planning Policy Team, Infrastructure Services, Aberdeenshire Council, Woodhill House, Westburn Road, Aberdeen, AB16 5GB.
You should be aware that Scottish Ministers have suggested that representations should be concise (no more than 2000 words plus any limited supporting productions). There is very limited opportunity to expand submissions later in the process, and then only on invitation.
If we are unable to agree to your proposed modification(s) then the matter(s) will be referred to a person appointed by Scottish Ministers to examine the Plan. Following Examination of any unresolved issues arising from representations the Reporter will set out their conclusions and recommendations on how the Plan should be modified, where necessary.
In accordance with the Coronavirus (Scotland) Act 2020, hard-copy documents will not be made available for inspection in public libraries or at Council Planning Offices throughout Aberdeenshire due to action taken in order to control the incidence or transmission of coronavirus. Should you experience any problems viewing the Proposed Local Development Plan online, please do not hesitate to contact us.
You can keep up-to-date on the progress of the Local Development Plan via the Council's website. You can follow us on Twitter @ShireLDP and the Aberdeenshire Council Facebook page. We also produce a regular enewsletter that details how we are progressing the preparation of the Local Development Plan. If you wish to be informed of our progress on producing the Plan, then we would also encourage you to subscribe to that mailing list. You can ask to be removed from this list at any time by contacting us.
Paul Macari Head of Planning and Environment Service

LDP Update 04 May 2020
Proposed Aberdeenshire Local Development Plan 2020
Public Consultation
The Proposed Aberdeenshire Local Development Plan (LDP) was agreed by Aberdeenshire Council on 5 March 2020. Formal consultation on the Proposed LDP had been expected to commence on 27 April 2020 for a period of 8 weeks. However, due to ongoing government restrictions associated with Covid-19, unfortunately, it was not possible for the consultation to begin on that date, as previously agreed. We now expect the consultation period to commence Monday, 25 May, closing on Friday, 17 July 2020.
The Proposed LDP, as agreed by Full Council, will be published on our website together with supporting documents, prior to the consultation period for information purposes and ease of reference. However, we will not be accepting any representations (i.e. responses) until the consultation period commences. A formal response form will be made available for download from our website for this purpose or can be issued by email or post upon request.
We would like to take this opportunity to emphasise that given the Proposed LDP is now the 'settled view' of the Council following substantial scrutiny and previous public consultation,

any requested modifications would need to be strongly justified.
We are aiming to hold virtual drop-in session(s) during the consultation period so that we are available to the public to answer any questions on policies and site allocations set out in the Proposed LDP. This virtual approach will replace the drop-in sessions we had intended to hold across Aberdeenshire prior to the outbreak of Covid-19. Therefore, please be advised that all 'physical' drop-in sessions previously scheduled to be held between May and June have now been cancelled.
We will also be notifying in writing the owners, lessees or occupiers of land neighbouring (i.e. within 20 metres of) proposed allocations identified in the Proposed LDP. This will ensure people are kept informed about sites proposed to be included within the Aberdeenshire Local Development Plan 2021, and also provides an opportunity to invite public comment during the consultation period.
Whilst it is recognised that engagement will be impacted through the lack of provision of physical documents and face to face communication throughout the consultation period which will not suit everyone, it is hoped that this pragmatic approach will reach as wide an audience as possible in the circumstances.
At this point in time, ahead of the consultation period, we would welcome any practical suggestions or requests in terms of how we facilitate the public consultation in a virtual/on-line manner, in order to best meet the needs of the public during the current unprecedented circumstances.
Officers from the Team are still contactable before, and during the consultation period and we are of course more than happy to answer any queries you might have on the Proposed LDP or the consultation process. We would also be happy to attend 'virtually' any Community Council meetings to answer any questions you might have.
Please do not hesitate to contact the Policy Team if you have any queries.
Yours faithfully,
Paul Macari, Head of Planning and Environment Service
---
The Proposed Aberdeenshire Local Development Plan will be presented to Full Council on
5 March 2020
The Report presented will recommend that Elected Members approve the Proposed Local Development Plan as "the settled view of the Council". We will recommend that the Proposed Local Development Plan be published for a period of 8 weeks during which time representations on the Proposed Plan can be accepted.
The papers for Full Council will appear on the Council and Democracy webpage of the Council's website one week prior to the meeting. A number of supporting documents will also be available to view including, an Strategic Environmental Assessment – Environmental Report of the Proposed Local Development Plan (also subject to public consultation), an interim Habitats Regulations Appraisal, an Equalities Impact Assessment. Given the size of the Proposed LDP and supporting documents we encourage users to view these electronically and consider the environment prior to printing.
Anyone wishing to submit a request to speak at Full Council must contact Ann.Riddell@aberdeenshire.gov.uk by 12 noon on Monday, 2 March 2020 stating clearly:-
a. The subject matter of the Request to Speak;
b. For which Meeting the Request to Speak is sought; and
c. The action, if any, that is proposed that the Council take.
The Draft Development Plan Scheme (DPS) has been presented to the six Area Committees for comment. Officers are considering comments received and will present the Drafted DPS, along with the comments of the Area Committees, to the Council's Infrastructure Services Committee for approval on 12 March 2020.
A DPS is prepared and published to inform stakeholders of the stage that the Local Development Plan is currently at, and to identify the nature of the consultation being undertaken to inform its content.
Following approval, the DPS 2020 will be published on the Council's website, a copy placed in each library within Aberdeenshire and two copies sent to Scottish Ministers.
Assuming the Proposed Local Development Plan is approved by Aberdeenshire Council at its meeting on 5 March 2020, an 8 week consultation period on the Proposed LDP will commence on 27 April 2020 and end on 19 June 2020. Engagement being promoted for 2020 following publication of the Proposed LDP, includes a series of nine drop–in sessions for members of the public (scroll down to next article for further details), and opportunities for wide access to the published documents through libraries and the internet during its consultation period. Updates will be provided via the e- newsletter during the formal consultation period. All properties that are adjacent to a site proposed for development will be notified and views sought on the proposals.
Anyone can comment on the content of the Proposed LDP during the consultation period. All those who made comments on the Main Issues Report will be contacted and expressly invited to examine the outcomes of the Council's deliberations on the issues identified. Likewise, all Community Councils, "Key Agencies" and neighbouring Planning Authorities will be contacted and neighbouring properties to proposed development sites will receive notifications. A pro-forma response form will also be available online, in libraries, in area planning offices and at drop-ins for people to make formal representation on the Proposed LDP. We strongly encourage the use of this response form in preparing your representation. Representations should be clear and concise (Ministers expect representations to be no more than 2,000 words plus any limited supported productions), but should fully explain the issues wished to be considered at the Examination. Any unresolved matters arising from the consultation will be considered at Examination by an independent Reporter appointed by Scottish Ministers.
Drop In Events
A series of drop-ins are programmed across Aberdeenshire to allow stakeholders and members of the public to view proposed development sites in their area and discuss any concerns they have with planning staff. Details of dates and venues are provided below. All drop-ins are scheduled to take place between 1pm-7:30pm.